Wheels Rims Tyres
Wheels, rims and tyres for trailers are available in many dimensions and with varying parameters. The most common wheel sizes for trailers are: 155/70 R13, 165/70 R13, 185 R13C and 195/50. Rims for trailers are most commonly either 10, 13 and 14 inches wide with a mounting bolt spacing of 4x100 or 5x112. Amongst the best brands on the market for all kinds of wheels, rims and tyres are: Mefro, Rosava, Townhall, Ovation, Linglong, Radial, Fullrun and Kenda. All products available on our website can be delivered straight to your door in a matter of a few days. Order your favourite brands here, at Unitrailer.co.uk, and enjoy the high quality of our products!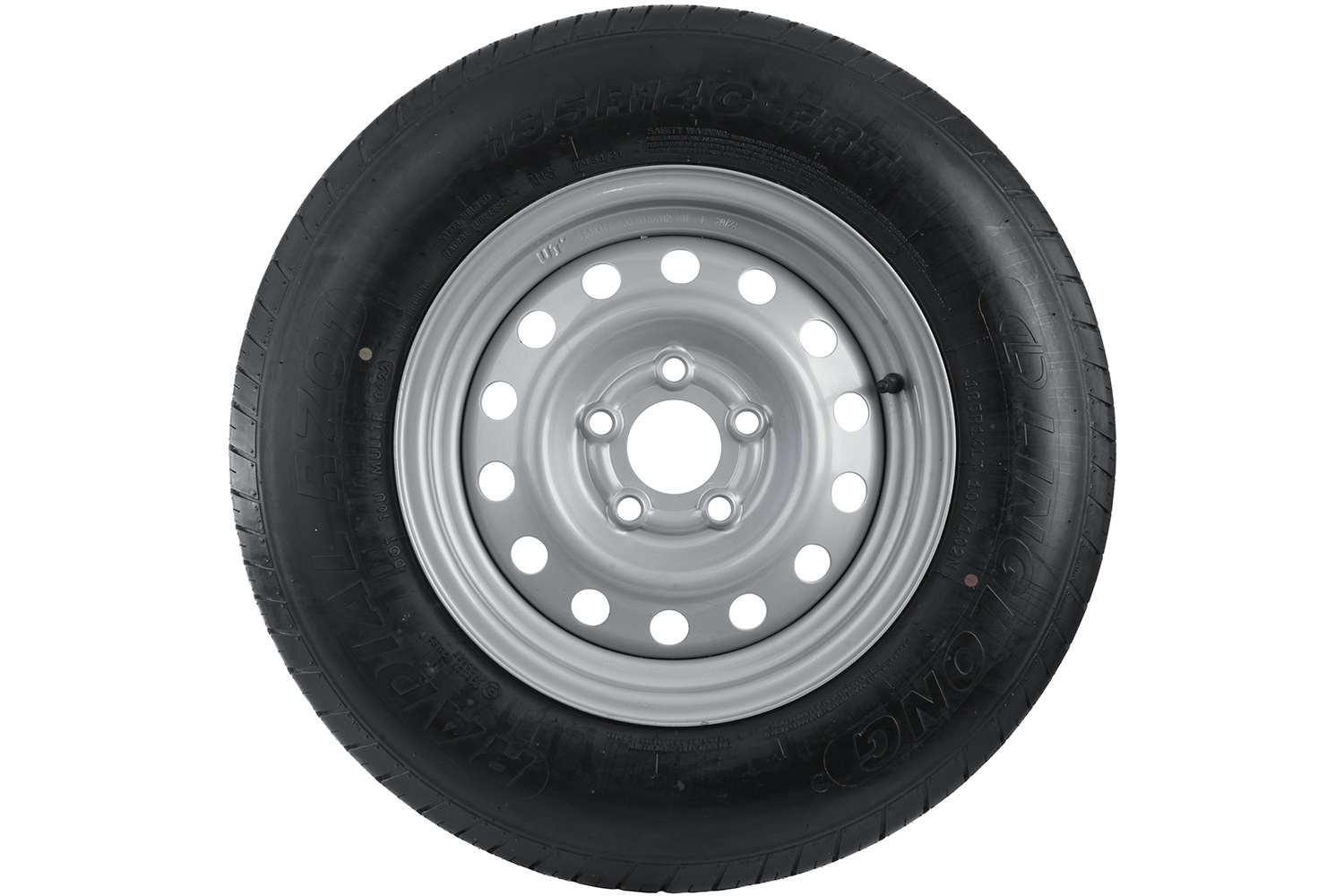 Trailer wheels
Trailer wheels
 usually come with all-season tyres, which is why you won't have to change them every once in a while. Having said that, it is nonetheless advised to take good care of trailer wheels, as they are one of the most, if not the most important element of the trailer's set-up. A solid trailer wheel, such as the 
reinforced trailer wheel 185 R14C
is a guarantee of a safe trip. For this reason, we recommend acquiring new trailer wheels when your old set is too worn and torn, thereby making it not fit for its purpose. It is a well known fact - the more one exploits a trailer wheel, the more likely it is that it will wear away quicker. It is also not a surprise that not using a trailer at all can also cause negative effects to the whole set-up, as the products can simply age over time from the lack of use. The trailer wheel's traction properties degenerate as time goes on, thereby making your trips less comfortable. As well as all of the above, trailer wheels are more likely to damage quicker when your trailer carries heavy loads. The trailer wheels available exclusively at UNITRAILER come from renowned manufacturers and are a guarantee of highest quality when driving with a trailer.
Trailer tyres
Trailer tyres
 should be chosen in such a way that their size, speed index and load index adhere to the parameters of the trailer. For heavy-duty trailers, one should opt for reinforced tyres, which will bear the pressure of extremely heavy loads without much trouble. All the information pertaining to tyre parameters can be found on a label, which is always attached onto each tyre. At our online store, you will also find all the necessary parameters in the product description. It is recommended that trailer tyres are replaced with new ones if the tread depth falls below
2 mm
. It is also useful to have a spare wheel at hand, in case of unpleasant surprises on the road. Trailer producers usually mount additional support brackets for spare tyres near the drawbar or inside the trailer's bodywork. Spare wheels can also be transported by means of the transport surface of the trailer.
Trailer rims
Trailer rims
 are also very likely to get their share of damage on the road. When you hit a curb or other hard objects, damages are unfortunately inevitable. If trailer rims are not protected correctly or if they are overused during winter, they simply wear out. At UNITRAILER, we offer all kinds of trailer rims. However, the most common types are either
10, 13 or 14
inch rims. When buying rims, make sure to get ones with the correct spacing between mounting holes and the right offset (ET). The trailer rims on our website are a guarantee of highest quality - they are additionally protected against adverse weather conditions and corrosion-resistant! We invite you to take a look at our offer.