Folding trailer Garden Trailer 150
Folding trailer Garden Trailer 150 by UNITRAILER, perfect for everyday use due to its small size (150 x 106 cm). The foldable drawbar for upright storage and easy loading and unloading, facilitated also by the foldable back panel. A high-quality, anti corrosion trailer of galvanised steel.
Delivery at home

The trailer Garden Trailer 150 is delivered at home, with all the documents needed. We can deliver the trailer in whole Europe. It has a 2-year guarantee, and you can always get our assistance from Monday to Friday. You can track your order and parcel.
It is a real multipurpose trailer - with the sides of 32 cm and the floor of 150 cm x 106 cm, it may be used for the transport of many types of articles. Its single axle
 by 
AL-KO
ou
KNOTT
750 kg
 makes it possible to transport heavy loads in all security.
Why GARDEN TRAILER 150 :
Folding trailer - upright storage and easy loading
Parts by the best producers - AL-KO, KNOTT, WINTERHOFF
Veary solid construction
Steel safety cable - be safe!
Optional accessories: high tarpaulin cover (40 or 80 cm), extension sides, mesh sides, anti-theft, flat cover, jockey wheel, etc.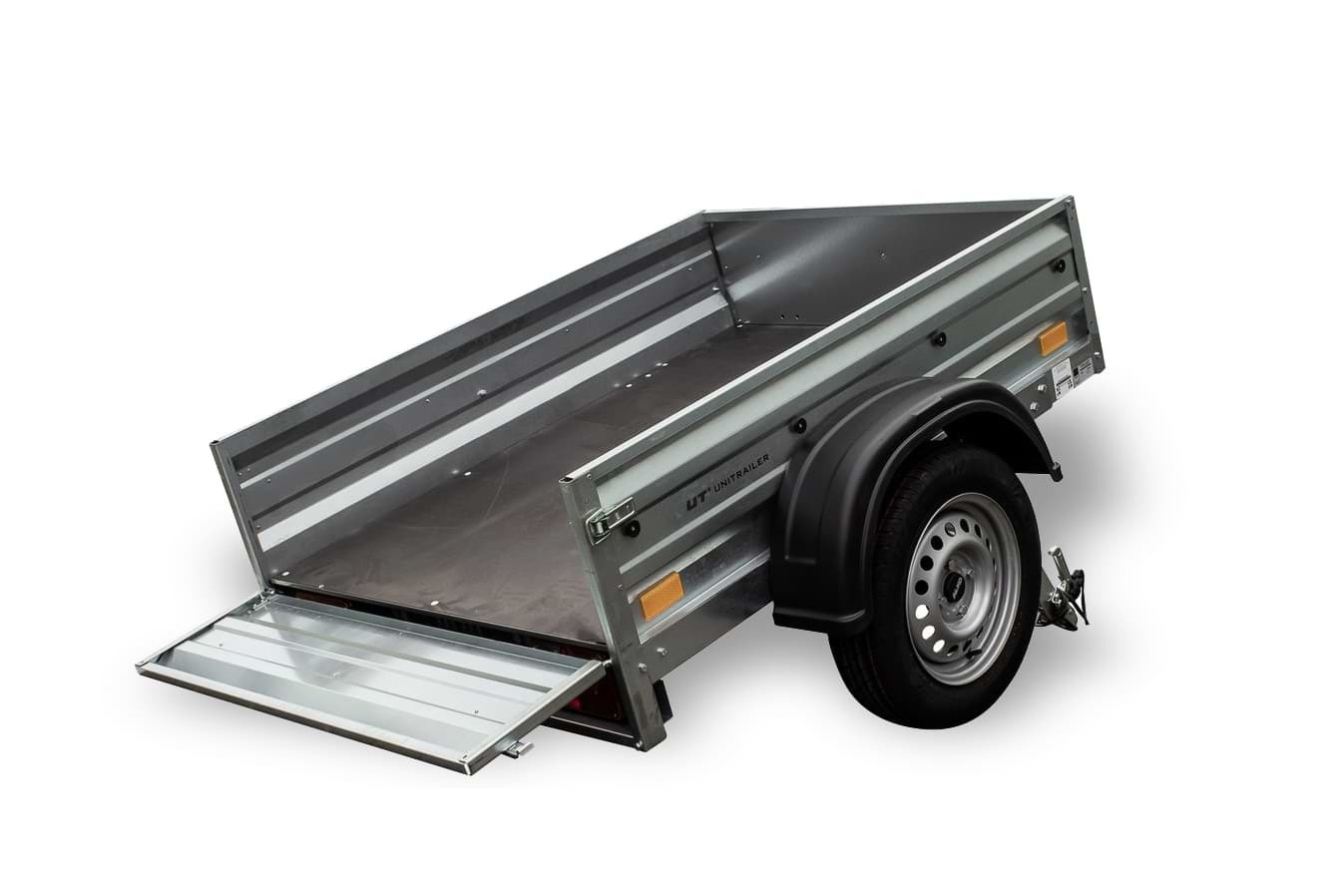 CHASSIS
Anti corrosion - galvanised
Opened rear panel
Floor - non-skid plywood
Floor's dimensions : 1476 mm

(length) x

1063 mm

(width),

320 mm

(sides' height)

Total dimensions : 2431 mm

(length)x

1487 mm

(width) x 

796 mm

(height)
BODY
Galvanised steel (anti corrosion)
Single axle by KNOTT or AL-KO
Tiltable drawbar
All season wheels 155/70 R13
Independent suspension  (rubber torsion bar)
OPTIONAL ACCESSORIES
tarpaulin cover (40/80 cm)
flat cover
cargo net
extension sides 32 cm
mesh extension sides 32 cm
jockey wheel with bracket
anti-theft
GVW on demand! - from 300 to 750 kg. Please indicate the GVW when placing the order. Possible GVW-s: 300 kg, 350 kg, 400 kg, 450 kg, 499 kg, 500 kg, 525 kg, 550 kg, 575 kg, 600 kg, 625 kg, 650 kg, 675 kg, 700 kg, 725 kg, 750 kg.
Towing hook for make & model:
Chevrolet Trax 2013.01 - obecnie
,
Opel Mokka (również Mokka X) (oprócz Flex-Fix) 2012.01 - obecnie
• Max. masa holowana (kg):
Max. perpendicularly exerted pressure [kg]