Trailer frame for sale with red tarpaulin for Garden Trailer 200
80 cm trailer frame for sale with red tarpaulin
Trailer frame for sale with red tarpaulin for Garden Trailer 200 and other trailers with the dimensions of 200x106 cm. At its highest point, the frame is 80 cm high and boasts a double-pitched roof for better drainage of rain and snow. It is made of very solid, galvanised steel beams. The trailer frame is additionally bolted for increased robustness. The bolts are included in the set. All the individual parts form a very solid structure. 
Trailer frame for sale - ideal accessory for all trips 
Our trailer frame with tarpaulin protects the load from unfavourable weather conditions such as rain, snow, hail or scorching sunlight.  By installing the frame on your trailer, you will not have to worry about the forecast when you hit the road.  The tarpaulin is made of thick, waterproof material. Even long precipitation will not pose any threat to your load once the tarpaulin cover in put on the trailer. The red-coloured tarpaulin will suit all types of car and will boost your looks on the road. Apart from the trailer frame and tarpaulin, the kit also includes an elastic rope with hooks, which allows the tarpaulin cover to be quickly attached onto the trailer. 
Durable and waterproof tarpaulin with rear opening 
The tarpaulin on offer is equipped with a rear opening, which facilitates the loading and unloading of goods. You therefore no longer need to take off the whole cover in order to access your goodies. All you have to do is lift the two straps that protect the back of the tarpaulin when you're on the road. Then simply roll up this part and put it on the top beam of the trailer frame. This way you can easily access the inside of your trailer's transport surface, even without opening the rear side. This is a very comfortable solution that will be useful during any trip.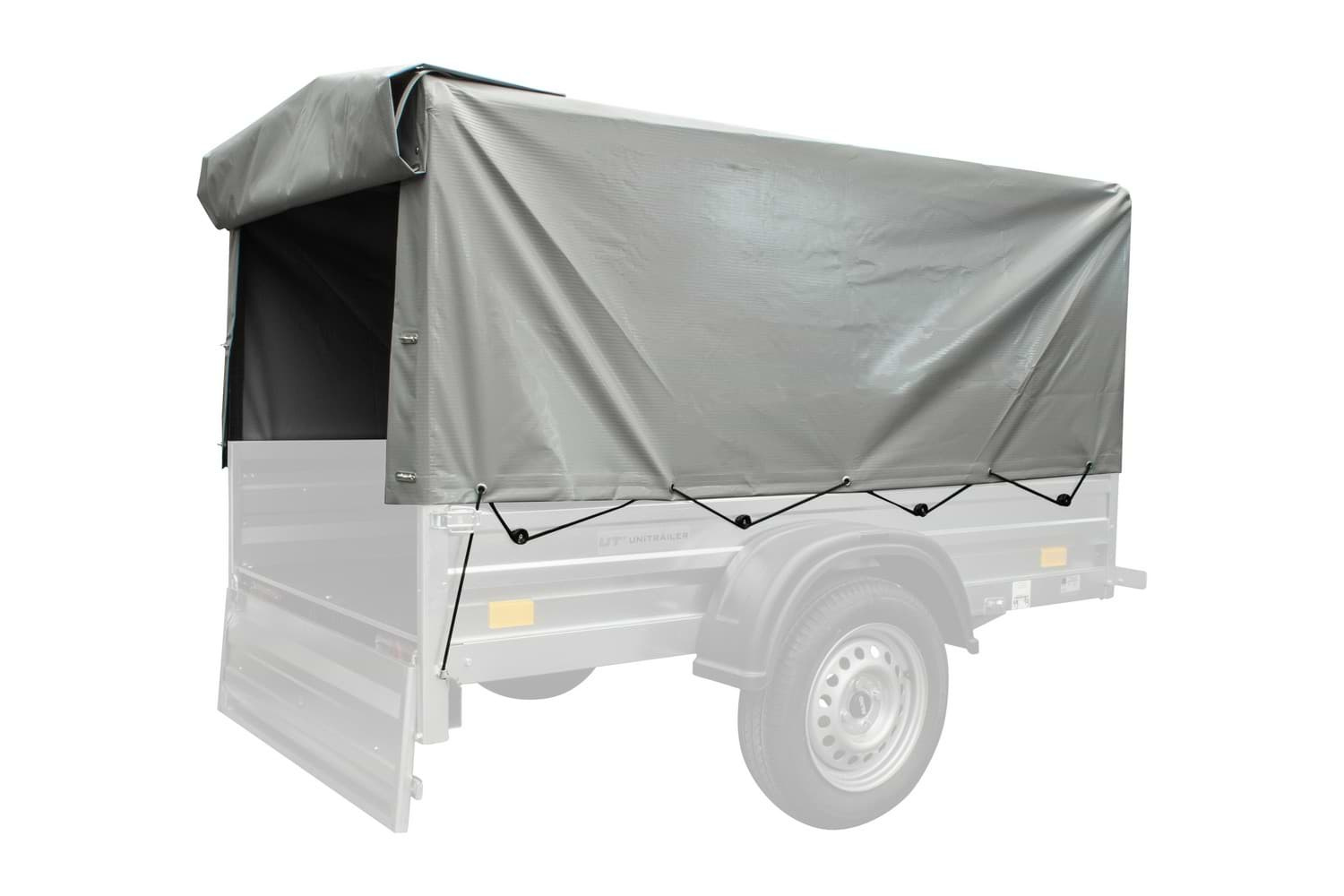 Oferta archiwalna-wycofana ze sprzedaży